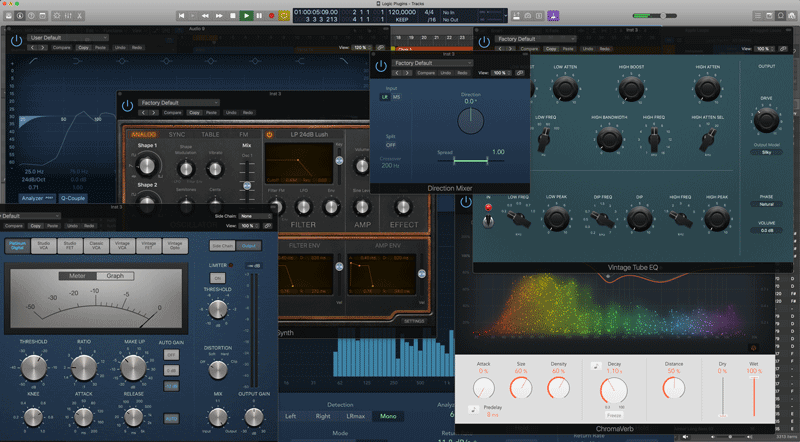 Learn about the enhancements and improvements in the most recent versions of Logic Pro.
Stability and reliability
Resolves an issue where Logic could quit unexpectedly when performing Flex Pitch analysis.
Logic no longer quits unexpectedly when tabbing to the end of a region after inserting a chord symbol into the Score.
Fixes an issue where Logic could quit unexpectedly when loading presets in Audio Units plug-ins, or copying tracks that contain Audio Units plug-ins.
Fixes an issue where Logic could quit unexpectedly when converting imported REX2 files.
Resolves various issues with Audio Units plug-ins that might cause Logic to quit unexpectedly.
Resolves an issue where Logic could quit unexpectedly when selecting a new patch while a Sampler window is open.
Performance
Improves performance and responsiveness when performing Smart Tempo analysis while the project is playing.
Performance is improved when selecting files in the Audio Import window on macOS Monterey.
The Logic interface now remains fully responsive when track level meters are displayed.
Fixes an issue where MIDI notes could stick when played through a Summing Stack using Logic's built-in instruments on Apple silicon Macs.
Notes created using the Pencil tool in GarageBand for iOS no longer get stuck when played back in Logic Pro.
Logic no longer hangs when zooming in to the maximum zoom level with the Movie track open.
Resolves an issue in Autosampler where playback to USB audio interfaces could become distorted.
Spatial Audio
Muting channels in the Surround Panner now behaves as expected in Spatial Audio.
Accessibility
VoiceOver now consistently announces the selection state of items in the Project Settings windows.
The blue highlight now follows selected items in the Preferences windows in VoiceOver mode.
VoiceOver can now be used to control a channel strip's 3D Object Panner in Spatial Audio projects.
Live Loops
An alert is now displayed when a Step Sequencer pattern cell is converted to MIDI, warning if the contents require that they be aligned to a single pitch.
Resolves an issue where Software Instrument Live Loop cells could appear to be empty immediately after recording.
In full screen view, the Live Loops grid now reliably updates when toggling Ultrabeat cells
Triggering and recording into Live Loops cells from control surfaces and MIDI controllers now works reliably.
Step Sequencer
Fixes an issue where playback can pause unexpectedly when recording large amounts of data into an unquantized Step Sequencer pattern in which step 1 has a negative offset.
Playback of a Step Sequencer region now continues as expected if the MIDI In port of the track is changed while it is playing.
Flex Time and Flex Pitch
Resolves an issue where audio files might not play after Flex Pitch analysis was performed.
Analyzing an audio file for Flex Pitch no longer resets existing Flex Pitch edits in the file.
Flex Pitch curves in the Audio Track Editor now consistently display as expected after an audio file is re-analyzed for flex pitch.
The Strength slider for Flex Pitch no longer jumps back to 100% after a lower value is set in the Audio Track Editor.
Flex Pitch data is now displayed correctly immediately after an audio file is analyzed for Flex Pitch.
Mixer
The Mixer now immediately shows the effect of changing from Post-fader mode to Pre-fader mode.
The Channel Input Mode button for Software Instrument tracks now displays reliably when the Mixer is set to Tracks view.
Deselecting all multiple selected channel strips in the Mixer now leaves only the currently focused channel selected in the Track List.
Groups
All regions of grouped tracks are now selected when selecting a track that's a member of the group.
MIDI 2.0 Support
The Arpeggiator plug-in now sends the correct note-off messages to third-party Software Instruments and MIDI FX plug-ins when Logic is running in MIDI 2.0 mode.
Plug-ins
An enabled EQ thumbnail now consistently displays as expected.
Logic's instruments now consistently respond as expected when playing quarter-tone tunings in Legato mode.
Adding a second instance of a third-party MIDI FX plug-in to a project no longer causes the track with the first instance to stop playing.
Sampler and Quick Sampler
Changes to the modulation visualization of controls in Quick Sampler are now immediately visible.
Automation
Automation for the Tape Stop parameter in RemixFX now remains functional after the play head is manually dragged during playback.
Resolves an issue where the RemixFX Gate effect did not respond properly to automation.
Logic Remote
Changes to the length of a pattern region are now immediately visible in Logic Remote on iPhone.
Logic Remote now displays the Filter On/Off switch for Quick Sampler.
It is now possible to activate the Filters in the Gate plug-in using Logic Remote.
Left Delay and Right Delay controls for the Sample Delay plug-in are now available in Logic Remote.
The Gain and Q-Factor controls in the Single-Band EQ plug-in are now available in Logic Remote.
Control surface and MIDI controller support
If a newer LUA script for an installed control surface is available, Logic will now use that instead of the built-in settings.
Logic now retains changes made to the display mode of control surfaces running in Logic Control mode.
Control surfaces supported by LUA script now send and receive feedback when using MIDI 2.0.
The Control Surface setup window now displays the correct group number for a selected device.
Fixes an issue where Novation Launchpad could unexpectedly show closed Track Stacks as being empty.
Setting a control surface to move the play head by ticks no longer causes the play head to only move backwards.
Control surfaces now update to select newly created tracks in Logic.
Changing an assignment control name in the Controller Assignments window now updates the name in the Key Commands window and Smart Controls assignments inspector.
It is now possible to edit an assignment in the Controller Assignments window if a Smart Controls inspector is also open.
Export and bounce
Fixes an issue where canceling bounce-in-place of a pattern region could cause the region to become corrupted and uneditable.
Sound from Remix FX is now included in bounced projects.
Content
It is now possible to load a channel strip CST file by dragging it from the Finder to the channel strip header.
Impulse Response Utility
All rows of the level meter in the Impulse Response Utility now update correctly.
Undo
Fixes an issue where a triple click could prevent additional undo steps from being added.
Score
The strum up and strum down markings are now displayed as expected in the Tablature Settings window.
Editing
Notes created with the Brush tool now reliably use the quantize values chosen by key commands.
Scale and Quantize settings in the Piano Roll no longer reset to defaults when the Piano Roll window is closed and then re-opened.
The value scrubber in the Position > Operations column of the Transform window now works correctly.
Selecting a region in the Event List editor now deactivates an active Marquee selection.
General
Resolves an issue in which MIDI might sometimes be recorded onto an Audio track.
Fixes an issue where edits to the currently selected and zoomed track could affect another track.
Auto-punch using Marquee selection now works consistently.
Fixes an issue where very short MIDI note events could sustain longer than expected when the MIDI 2.0 preference is enabled.
Previously selected MIDI regions are now deselected after recording a new MIDI region with Overlap mode enabled.
The Dynamics control in the MIDI Region Inspector now properly limits MIDI values that would exceed the top range of possible MIDI values.
Musical Typing now remains active if a record-enabled MIDI track is not the focused track.
Resolves an issue where the Region Delay sometimes could not be set to "ms."
Resolves an issue in which using Option + Shift to copy a Marquee selected area unexpectedly divides regions covered by the Marquee original selection.