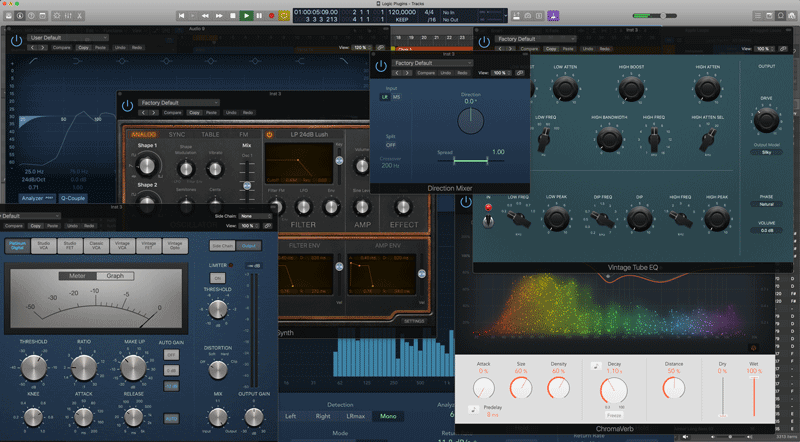 New features and enhancements
Enables spatial audio monitoring with dynamic head tracking on AirPods Max, AirPods Pro, AirPods (3rd Generation), and Beats Fit Pro (requires a Mac with Apple silicon with macOS Monterey version 12.3 or later).
Monitor through the Apple binaural renderer, which provides a more accurate preview of spatial audio playback on Apple Music (requires macOS Monterey version 12.3 or later).
Logic Pro 10.7.3 is optimized for M1 Max and M1 Ultra on the new Mac Studio.
Stability and reliability
When an Audio Units plug-in crashes while running Logic Pro on Apple silicon Macs, Logic will continue to run, and automatically reloads the plug-in after selecting Recover from the Recover/Quit dialog.
Resolves an issue where Logic could sometimes hang when loading or copying Slate plug-ins.
Fixes an issue where Logic could quit unexpectedly when changing presets on certain AU plug-ins when running on Apple Silicon.
Fixes an issue where saving a project to a read-only location could cause data loss in the project.
Fixes an issue where Logic could quit unexpectedly when "The previously selected audio interface is not available. The built-in audio inputs and outputs of the computer will be used instead for this session" appears on systems running in Korean.
Playback now stops if an Audio Units plug-in quits unexpectedly.
Fixes an issue where Logic could quit unexpectedly when an RME Fireface UCX is set as the audio output device.
Fixes an issue where Logic could hang when sharing to SoundCloud.
Fixes an issue where Logic could quit unexpectedly when creating a Macro in the Environment.
Fixes an issue where Logic could hang when converting a project containing instances of Kontakt to spatial audio.
Fixes an issue where Logic could quit unexpectedly when opening the Project Audio window in certain projects.
Performance
The display of automation now immediately updates when dragging automation points on Apple Silicon Macs that are also running the Better Snap Tool utility.
Logic now remains responsive when automating the Softube Model 84 plug-in.
Fixes an issue where Audio Units v3 plug-ins could sometimes glitch on playback if MIDI 2.0 is enabled.
Performance when selecting notes in the Score is improved.
Projects with certain Audio Units plug-ins now load faster.
Includes performance and stability enhancements on Apple silicon Macs.
Accessibility
VoiceOver now correctly announces the state of the Record button.
Spatial Audio
Automated panning is no longer rendered early when exporting an ADM file from Logic.
Large ADM files now import more quickly.
Logic no longer converts Spatial Audio absolute automation parameters to relative automation for parameters that don't support relative automation.
Muting the Spatial Audio monitoring plug-in on the Surround Master channel strip now works as expected.
Surround
Changing the Character on a Drummer track set to Surround no longer switches the channel strip to Stereo.
Step Sequencer
Copied Pattern Region rows now maintain the MIDI channel setting of the original row.
Enabling Mono Mode for a step in a column that contains multiple steps now toggles off the other steps in the column as expected.
Randomizing Step On/Off with Mono Mode enabled now creates a more even distribution of steps across rows.
The Pattern Key menu display now immediately updates after the Transpose to Project Key action is performed.
Spot erase in a Pattern region now removes the corresponding steps from the pattern Editor as well as the underlying events.
Fixes an issue where the Step Sequencer and Main Window play heads would not properly align after a Pattern Region is extended.
Live Loops
The Piano Roll no longer displays the contents of a Live Loops cell after the cell is deselected.
The Copy Playing Cells Here command now includes queued cells.
Fixes an issue where applying the Copy Cycle to Live Loops command to a Pattern region could add it as a MIDI cell to the Live Loops grid.
Sampler and Quick Sampler
Slices of new samples imported after the application of a long fade to existing samples in Classic mode now trigger reliably.
Samples stored on external volumes are now reliably found when loading instances of Sampler.
Sampler now has a Save with Audio option in the Save As menu.
Plug-ins
Delay Designer Tap parameters now switch properly when adjusted using Logic Remote.
AUv3 MIDI plug-ins are now fully functional in Logic Pro.
Resolves an issue in which there might be stuck notes when using the Vienna Instruments VEPro 7 Audio Units V3 plug-in.
Resolves an issue where adding a MIDI FX plug-in to a channel strip could remove existing mappings in Aliases of the channel strip.
The Arpeggiator plug-in now offers a grace period when the first notes or chords of the arpeggio are played slightly off the grid.
Chase
Resolves an issue where starting a MIDI recording after the end of an existing region on the same track could extend the recorded region back to the previous region if Chase CC64 is enabled.
Automation
Autoselect Automation Parameter in Read Mode now works when Record Automation with MIDI regions is enabled.
Automation recorded with MIDI regions during multitrack MIDI recording is now reliably routed to the correct tracks.
Clicking to add Region-based Automation to a lane now works reliably at all positions.
Editing automation with the pencil Tool while pressing Option now works as expected when the Pencil Tool: Hold Option for Stepped Editing automation preference is enabled.
Writing automation by adjusting a control in a plug-in's UI no longer sets the initial written value to the parameter's lowest possible setting.
Drummer and Drum Machine Designer
Recording to the Drum Machine Designer main track by clicking the Preview (speaker) button for individual drum pads now trigger sounds on playback as expected.
Brush Drums now respond to All Notes Off events (MIDI CC# 120).
Flex Pitch and Flex Time
The Analyze Audio for Flex Editing command now analyzes each audio file only once, even in cases where there are multiple regions from each file.
Mixer
Level meters on External instrument tracks now function during playback.
Panning multiple selected tracks at once with Sends on Faders enabled now maintains the correct pan positions for all tracks.
Groups
Editing regions on grouped tracks with the Resize tool now works as expected.
MIDI input
Fixes an issue that now enables live signal monitoring for more than 18 incoming MIDI tracks.
Export and bounce
When bouncing a project at a sample rate other than 44.1 kHz, the Write to CD option now converts the project to 44.1 kHz before writing the CD.
The progress bar now updates as expected when bouncing.
Import
It is now possible to directly drag unprotected audio files from Music into Logic.
Resolves an issue where MIDI notes could unexpectedly be lengthened in projects imported from Garageband for iOS.
Logic Remote
The filters in the Noise Gate plug-in can now be accessed from Logic Remote.
MIDI controllers and control surfaces
The Controller Assignments window now displays the short names for plug-ins defined in the Plug-in Manager.
Restores support for various previously supported control surfaces and MIDI controllers.
Control Surfaces now reliably show the recording state when recording into a Live Loops cell.
Logic now consistently prefers available built-in support for MIDI controllers in cases where a Lua script for the device is also available.
Smart Controls
The Smart Control for High Cut in the Broadway Big Dreamer Pad patch is no longer inverted.
Smart Tempo
Preview now works consistently with Software Instrument tracks in the Smart Tempo editor.
Step Recording
Fixes an issue where clicking notes in the Step Input keyboard could trigger unexpected CC#120 All Sound off events.
Undo
Changes to plug-in parameters now Undo correctly when the Library Panel is in focus.
Undo is now available when changing a row color in a Pattern Region.
Editing
The Tab key now moves focus between fields in the Audio File Editor.
Fixes an issue where black keys could disappear from the Piano Roll sidebar if Collapse mode is enabled and disabled while the Piano Roll Inspector is hidden.
The Piano Roll now shows all the expected content when two MIDI take regions are glued together.
The Double Speed transform set now works correctly.
General - Logic Pro 10.7.3
Dividing an audio region now consistently creates new regions with precisely the expected lengths.
The Track Velocity Limit setting now works as expected.
Buttons in the Track Header now remain functional after they have been quickly toggled twice.
Repeatedly copied regions are now consistently placed on correct grid locations.
Double-clicking the divider between the Tracks Area and the Main Window Editor now closes the editor pane.
All selected regions on grouped tracks now maintain their correct positions when the left border of one is dragged to the right with both Snap Edits to Zero Crossings and Flex Time enabled.
Fixes an issue where note input from MIDI guitars cold sometimes hang unexpectedly.
Fixes an issue where the Transpose parameter in the MIDI Region Inspector could be inadvertently affected by mouse movements or clicks outside the parameter UI.
Initializing Logic Pro's preferences now sets Plug-in Delay Compensation to All.
The Discard Recording and Return to Last Play Position command no longer leaves the recording in place if the Marquee Selection Engages Autopunch Recording setting is disabled, and a recording is made that crosses into an active marquee selection.
Tracks names are now consistently visible when the Track Alternatives selector is shown in the Track Header.
It is now possible to select an icon that was just set on an adjacent track for the currently selected track.
Double-clicking on the borders of Inspectors in the Main window now closes them as expected.
When Logic Pro connects to a newly available Bluetooth audio device, it automatically sets the output only and does not affect the previous input setting.